Barley genetic resources
Contact person for Barley: Ahmed Amri, ICARDA, Syria
Contributors to this page: ICARDA, Syria (Ahmed Amri, Bilal Humeid, Kenneth Street, Natalya Rukhkyan, Jan Konopka, Siham Asaad, Adnan Omran, Fida Alô).
External reviewers: Jan Valkoun (Czech Republic), Axel Diederichsen (Plant Gene Resources of Canada).
Compilation of best practices
Information on current practices for genebank management of barley was gathered from current genebank practices and accumulated experience from ICARDA and CIMMYT genebanks, and reviewed from literature and existing websites of major small grain collection genebanks (e.g.USDA-Fort Collins and VIR). This exchange of information and recommendations provided the basic information for selection, justification and recommendations that were then compiled into a data collection form, edited and uploaded onto this website, complemented with relevant photos and revised and validated by the crop experts.
Importance and origin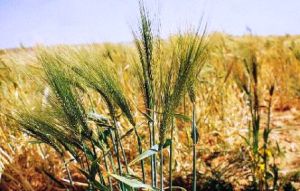 Barley (Hordeum spp.) is the fourth most important cereal crop in the world after wheat, maize and rice with a global production of over 150 million tons produced from about 60 million ha. The area cultivated is now approximately the same as in the 1960s, but the yield doubled from 1.3 t/ha to 2.6 t/ha. Barley is a globally important crop adapted to marginal and stress-prone environments and is considered as a risk aversion crop by poor farmers.

Barley cultivation extends from the arctic latitudes to tropical areas and is grown in the highest altitudes. The main barley growing countries in the world are Russia, Canada and Germany. In Tibet, Nepal, Ethiopia and the Andes, farmers cultivate barley on the mountain slopes at elevations higher than any other cereals. Barley predominates in the dry lands of North Africa, the Middle East, Afghanistan, Pakistan, Eritrea and Yemen.

Barley was first domesticated in south-western Asia, in the area called the Fertile Crescent, where its wild progenitor Hordeum vulgare subsp. spontaneum is still found in non disturbed natural habitats and on field edges. Only one perennial species Hordeum bulbosum forms its secondary genepool and is also found in the West Asia center of diversity. The remaining wild Hordeum species are distributed in Europe, Asia, Africa and the Americas. Other centers of diversity of cultivated barley are found in Africa and Asia among which Ethiopia and Morocco.

The breeding strategy for barley crop improvement in the developing world is targeted to low-input stress-affected, mostly subsistence farming systems in highly diverse environments. This differs from that in developed countries where barley may be grown for different purposes using high-input technologies.
Types
Hordeum L. belongs to the tribe Triticeae of the family Poaceae (Gramineae). Based on morphology, Bothmer and Jacobsen recognized four sections: Sect. Hordeum (3 species), Sect. Anisolepis (8 species), Sect. Stenostachys (7 species), and Sect. Critesion (14 species).

Barley has many different varieties and can be classified in many ways: by number of fertile seeds per spikelet to have two-, four- or six-row types (H. vulgare subsp. spontaneum is two-row, while cultivated barley is mainly six-row type, although most farmers in West Asia prefer two-row type); by the beards (awns) covering the kernels (long-awned, short-awned, normal-hooded, elevated-hooded, subjacent-hooded, etc), and by other descriptors such as hulled or hulless (naked), feed or malt type, height (tall, dwarf), seed colour (colorless, white, yellow, blue). Barley is also classified into four types based on geography: Manchurian types, Coastal types, Hannchen types or Compana-Smyrna types.
Utilization
Barley has multiple uses but its grain is mainly used as feed for livestock, for malting mainly in developed countries and as food in several developing countries such as Azerbaijan, Estonia, Ethiopia, Morocco and Nepal. It is also an essential food in the highlands of the Andes, Himalayas and North Africa, and in the drylands of Central and West Asia and North Africa. Barley is also used as green forage through early grazing or cutting at past heading stage.

The straw of barley is highly valued by farmers as the main source of feed in the Central and West Asia and North Africa (CWANA) region. In dry years, barley straw may have a higher price than barley grain. Barley landraces from CWANA countries have soft and highly palatable straw, but this trait is rare or lacking in the modern lodging-resistant varieties.
References and further reading
Watch a great documentary on the importance of genetic diversity, landraces and crop wild relatives, to the future of agriculture in the face of climate change and other challenges.